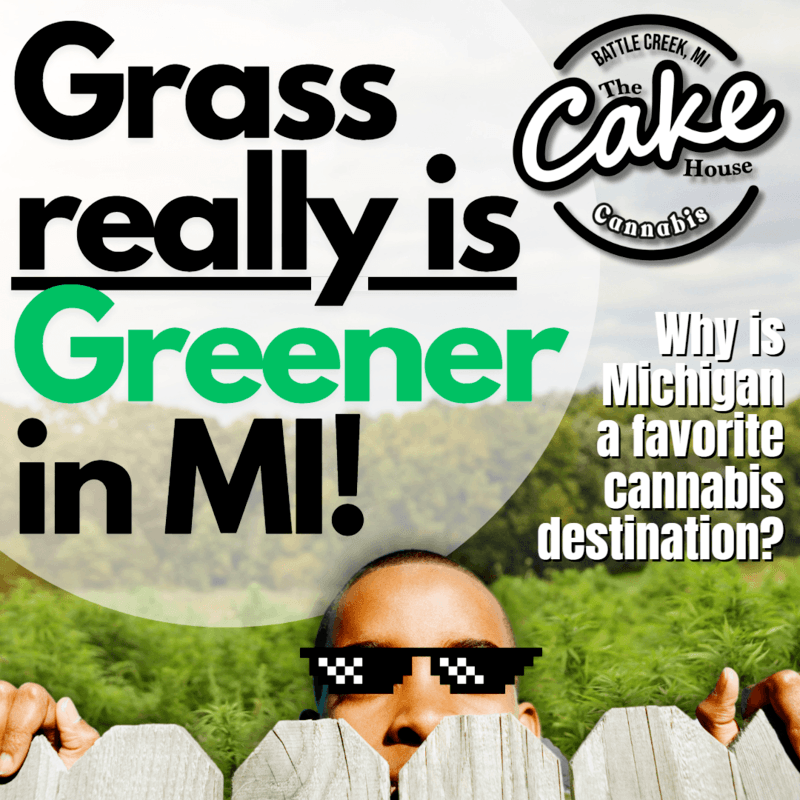 The Grass really IS greener in Michigan… For several reasons!
With the long holiday weekend coming up, many of us will be hitting the road or skies for a short escape! Whether it be for family, friends, alone time, or just a break from the norm, having that extra day provides the needed time to get where you wanna go! Since 1971 when Memorial Day was officially recognized as a federal holiday and was designated to be observed on the last Monday in May, it's provided a three-day weekend for Americans to not only remember the fallen but also spend time with family and friends.
Perhaps your travel agenda involves re-upping your dwindling 4/20 stash! If green is your scene, Battle Creek, MI is your destination!
The mitten state has become that helping hand in terms of providing the upper Midwest with plentiful cannabis options, high quality bud, and stable pricing.  Michigan has a long history of cannabis cultivation, even before its legalization for adult recreational use in 2018. Experienced growers have honed their skills over the years, developing expertise in cultivation techniques, strain selection, and post-harvest processes. The state has attracted breeders and cultivators from various regions, leading to a diverse genetic pool. Michigan's climate is also well-suited for cannabis. It experiences four distinct seasons, which allows for outdoor cultivation during the warm months and indoor cultivation during the colder months. The temperate climate, blended with fertile soil and abundant freshwater, creates favorable growing conditions for cannabis. This genetic diversity allows for the cultivation of unique and potent strains that cater to different consumer preferences. This accumulated knowledge and experience contribute to the quality of the cannabis produced and provided here.  Not to mention, the demand for high-quality cannabis in Michigan has pushed growers to continually improve their cultivation techniques and strive for excellence. Compared to the product produced (and varying legal status) in the neighboring states of Illinois, Indiana and Ohio, Michigan has become the high haven for many. Fueled by this demand and draw, growers are incented to produce top-notch cannabis to cater to the discerning tastes of so many!
When looking over the fence (or state boarder) at the greener grass…it's not just the weed, it's the extra cash in your hand. Compared to its neighbors, Battle Creek has some of the most competitive price per pound, not only in the region, but the State of Michigan. With an abundance of high quality grows and concentration of stores in Battle Creek, it's the prime spot to shop.  Known lovingly as the "Marijuana Mile", there's over a dozen doors boasting they have best deals in a compact 3+ mile stretch of East Michigan Ave (aka Hwy 94).  However, only 1 offers a drive-thru window, the friendliest & most knowledgeable staff, and WIDE selection… The Cake House!  (Did we mention the drive-thru window?!?)  The team assembled to navigate the fields of high quality flower in Battle Creek continually work with a long list of suppliers to bring only the best bud into The Cake House. With strong focus on craft cultivation, many of the growers TCH works with prioritize small-batch production, paying attention to details such as hand-trimming, curing, and packaging. This emphasis on craftsmanship and attention to detail contributes to the overall quality of the final product.
When you step into The Cake House showroom, you won't be able to miss the various stations backed by sealed containers full of nugs ready for your choosing.  Not just counter clerks, the Budtenders are the experts in these fields.  Deep product knowledge from not only from the cultivators, but also experience are what these pros bring to the shopping experience.  If you know what you're looking for, they'll have it at their finger tips.  If you don't know and are just kind of curious, or new to the experience… That's where they'll REALLY shine.  They love helping shoppers reach their desired destination on their long weekend canna-journey!
Take the vaca and stay in Battle Creek! Just be sure to swing by The 'House (The Cake House that is…), where you're always welcome!
* This blog is for entertainment purposes only. The legality of crossing state lines to purchase cannabis depends on the laws of the states involved.